From the moment you step out of the airport into Hawaii's plumeria-scented air, gaze up at the Dr. Seuss–like tufted tops of improbably tall palms, and encounter hibiscus flowers the size of Frisbees, you know you're in a place where plants reign supreme.
Not only is Hawaii one of the most biodiverse regions in the world, with more than 25,000 species, but the geographic isolation of the islands means that more than 90 percent of these native plants are found nowhere else in the world.
The locals don't take this bounty for granted, protecting and preserving it in more than 30 botanical gardens and arboretums, including a network of National Tropical Botanical Gardens; there are also hundreds more public gardens, nature preserves, forest reserves, and parks blanketing the islands.
So come admire Hawaii's rarest orchid, perched on the edge of extinction; marvel at platter-size protea blooms; and wander past tree ferns that are among the oldest plants on the planet in these spectacular Hawaiian gardens.
---
Kauai: The Garden Island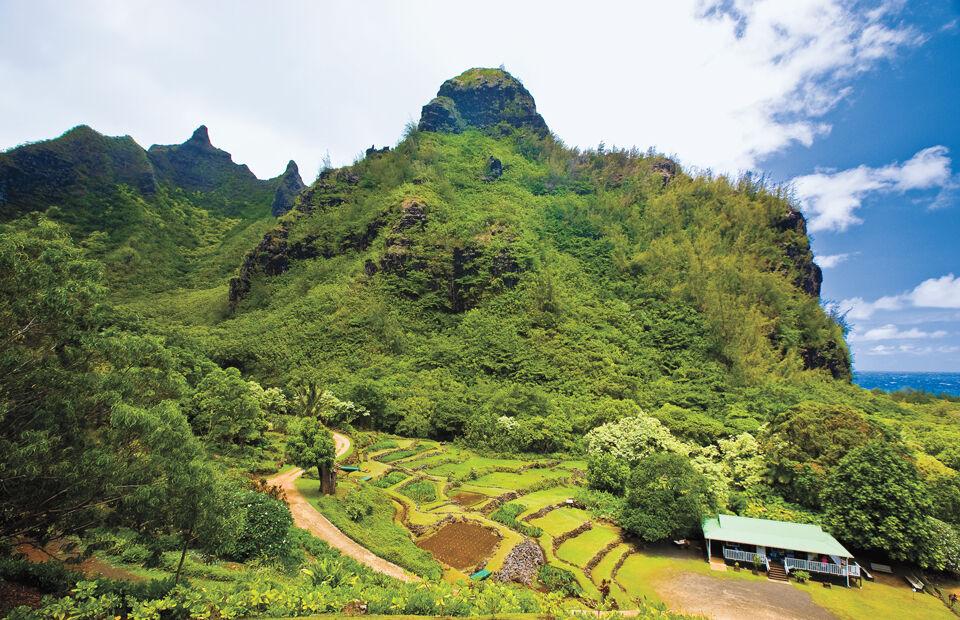 With 97 percent of its land still undeveloped, the wettest climate in Hawaii, and some of the state's lushest landscapes, Kauai would deserve its title of the Garden Island even if it weren't home to three National Tropical Botanical Gardens.
LIMAHULI GARDEN AND PRESERVE, NORTH SHORE
There are many reasons that Limahuli Garden and Preserve is a must for any Kauai visitor, including the fact that it showcases rare, endemic, and endangered plants once thought extinct—for instance, the deliciously scented Hawaiian white hibiscus (or koki'o ke'oke'o) and the native fan palm Pritchardia limahuliensis, found only in this valley.
Limahuli is also the perfect introduction to the region's botanical history, organized in plots that showcase each era, from native trees and flowers to the "canoe plants" brought by the Polynesians who were the islands' first inhabitants, continuing up through plantation-era plants and modern introductions.
Other distinctive features of Limahuli, though, are the intricate layers of ancient rock-walled terraces—shown by carbon dating to be more than 1,000 years old—that stairstep up the slopes until they meet the dense highland forests above. These are the remains of one of Hawaii's last intact ahupua'as, a traditional land and watershed management system that was so efficient it allowed densely populated island communities to be entirely self-sustaining in complete isolation.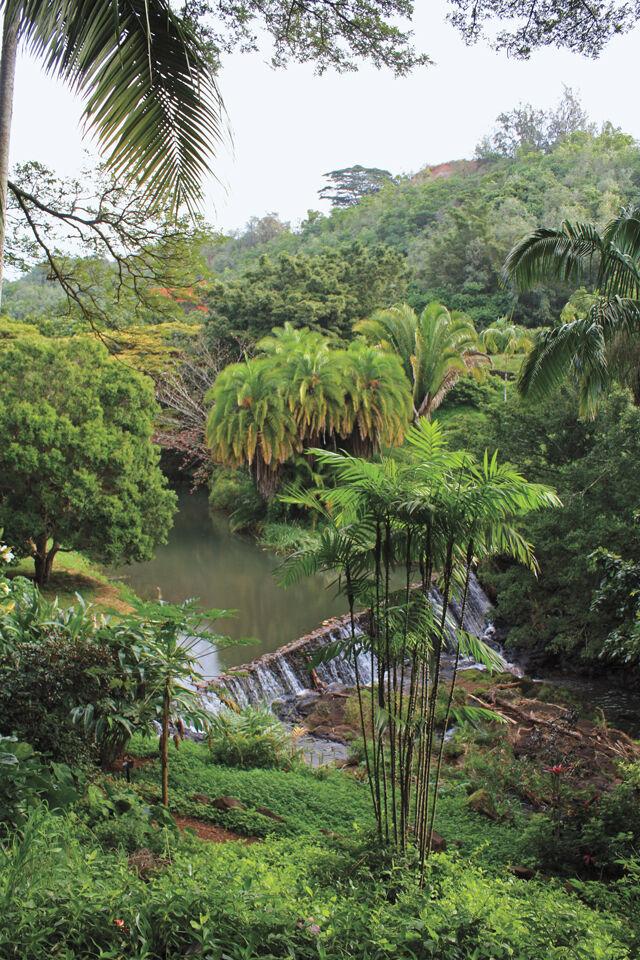 MCBRYDE GARDEN, SOUTH SHORE
Located in the verdant Lawai Valley near Koloa with imposing cliffs framing it on both sides, McBryde Garden boasts the largest collection of native Hawaiian species outside the wild.
The former plantation of the McBryde Sugar Company, which had owned the land since 1886, houses a nursery program to preserve and reintroduce threatened and endangered tropical plants.
Like Limahuli, McBryde still has remnants of the original ahupua'a, with archaeological evidence of sophisticated stone terraces and fishponds suggesting this was once an important settlement.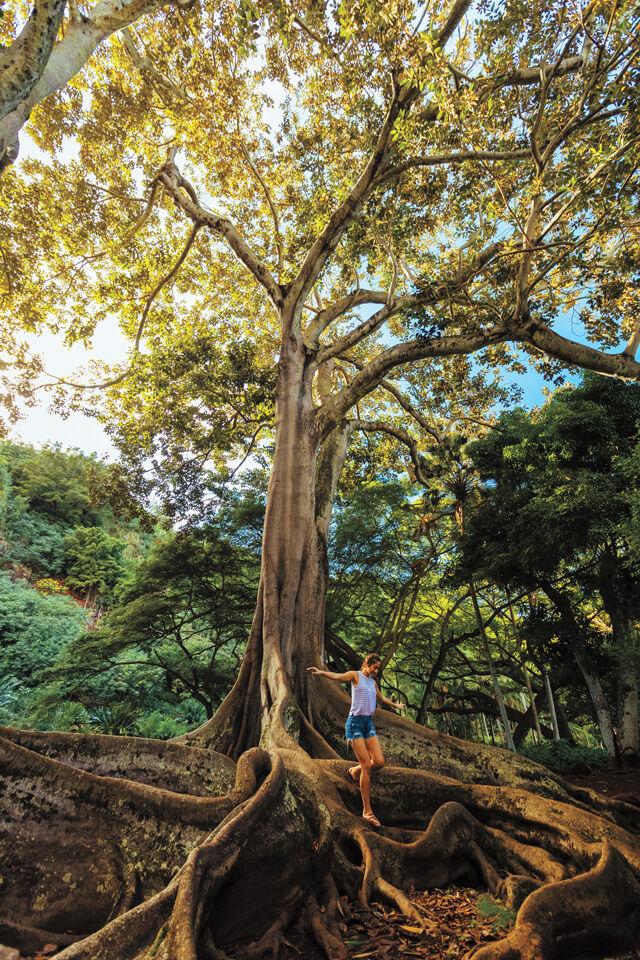 ALLERTON GARDEN, SOUTH SHORE
Many travel guides list McBryde and Allerton together, and, indeed, they are right next door to each other on Kauai's south shore.
But Allerton Garden has an identity all its own, with plots laid out as a series of magical rooms by landscape designers Robert and John Gregg Allerton, who purchased the property in 1938.
A prime movie location for decades, Allerton has been featured in numerous blockbusters, and there are always Instagrammable moments happening among the garden's enormous Moreton Bay fig trees, which played starring roles in Jurassic Park and Pirates of the Caribbean.
WHERE TO STAY: KAUAI
THE CLIFFS AT PRINCEVILLE
From its headlands perch, this expansive development wins prizes year after year for its commitment to sustainability, including recycling a sizable portion of its water and generating more than 60 percent of its electricity through solar panels. Guests can tour the 83-acre Common Ground farm and learn about the Hawaiian islands' agricultural heritage, or take a botanical tour to identify native plants.
SHERATON KAUAI COCONUT BEACH RESORT
A new pool area, a beachside bar and restaurants, and an airy high-ceilinged lobby are just a few of the recent renovations that have made this classic resort, sheltered in a 100-year-old coconut grove, a prime home base. In addition to the resort's lush new landscaping and 4,500-foot open-air pavilion, it features the largest luau space on the island.
---
Marvels of Maui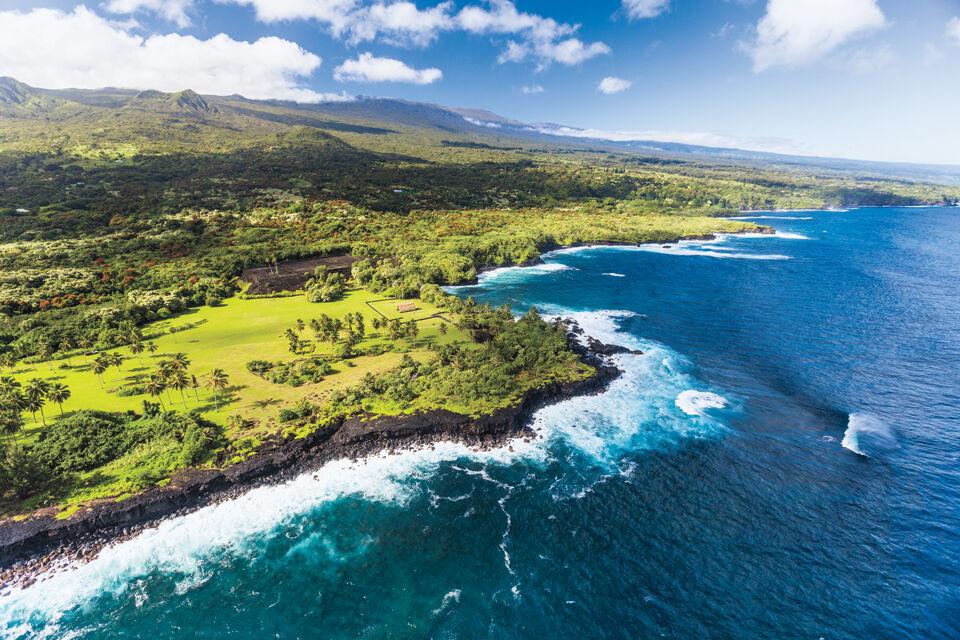 Maui may be best known for surfing and luxury resorts, but marvelous gardens can be found on the slopes of its volcanic mountains and along the iconic Road to Hana.
KAHANU GARDEN, HANA COAST
The Kahanu Garden on Maui's eastern side features one of the largest native hala forests in Hawaii. A National Tropical Botanical Garden, Kahanu specializes in educating visitors about the cultural relationships between people and plants, particularly those such as breadfruit that became important food sources after being brought to the islands in voyaging canoes.
Many visitors come to Kahanu especially to see the National Historic Landmark Pi'ilanihale Heiau, an immense shrine made of lava rock that is believed to be the largest ancient man-made structure in Polynesia.
Visitors also often stop at the Garden of Eden on the Road to Hana, a property dedicated to restoring Maui's native ecosystem and promoting native and indigenous species.
KULA BOTANICAL GARDEN, UPCOUNTRY
A popular spot on the way to Haleakala volcano, Kula Botanical Garden was the first public garden on Maui when it opened in 1977; it was originally founded in 1968 by landscape architect Warren McCord and his wife, Helen. Sitting at an elevation of 3,300 feet, Kula is relatively small at eight acres but is home to nearly 2,000 species of Hawaiian flora and fauna, including many spectacular protea and other tropical flowers.
While a major landslide in December 2021 destroyed a significant section of the garden, washing out bridges and burying koi ponds, it has reopened, and guests can enjoy the majority of the stunning garden.
WHERE TO STAY: MAUI
KAANAPALI BEACH HOTEL
This resort underwent an $80-million renovation. Wander a four-acre courtyard replanted with breadfruit and other Polynesian food staples, or join a wa'a paddle tour aboard the hotel's six-person outrigger canoe.
HANA-MAUI RESORT
The 75-room hotel offers an infinity pool that seems suspended over the sea. Guests can dine on produce picked fresh from the hotel garden and tour Ono Organic Farms nearby.
---
The Big Island's Native Blooms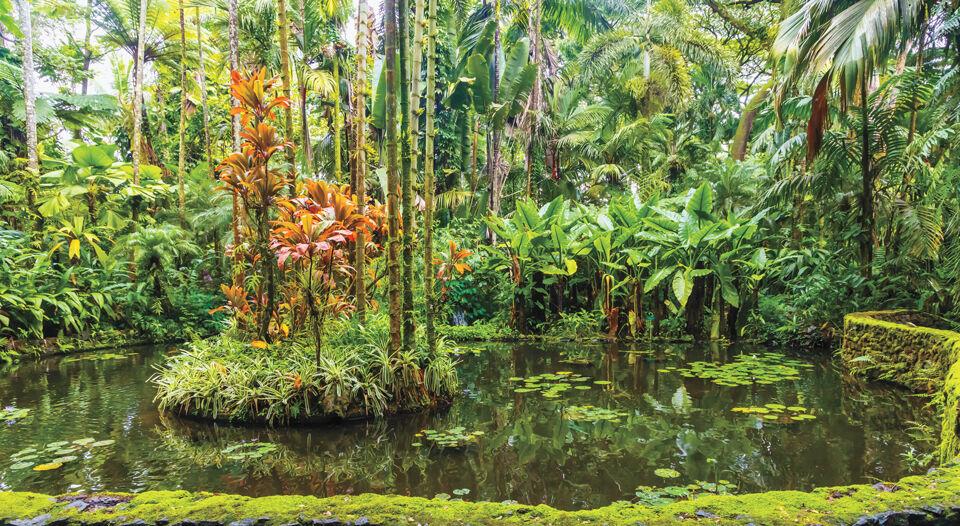 While the Big Island of Hawaii earned its nickname, the Orchid Isle, for its history as home to a multitude of orchid nurseries and cultivators, it now features numerous gardens specializing in native species.
HAWAII TROPICAL BIORESERVE AND GARDEN, HILO
Spread across the fertile Onomea Valley on Hawaii's protected Hilo side, the Hawaii Tropical Bioreserve and Garden displays more than 2,500 plants, both native and those collected from around the world by its founder, Dan Lutkenhouse Sr., who purchased the 17-acre parcel in 1977.
Still run by Lutkenhouse descendants, the garden features a mile-long self-guided nature trail as well as the stunning three-tiered Onomea Falls. For added fun, visit the garden's aviary, populated by a family of scarlet macaws.
With a mission to educate visitors about the plight of rain forests and with many of its plants now extinct in the wild, Hawaii Tropical Bioreserve has also taken on the role of seed bank for gardeners of the future.
AMY B. H. GREENWELL ETHNOBOTANICAL GARDEN, KONA
Closed for four years and reopened in 2020, the Amy B. H. Greenwell Ethnobotanical Garden preserves the legacy of its founder and namesake with a focus on the role of native plants in Hawaiian cultural history. The community-owned garden, formerly an extension of the Bishop Museum, displays 200 species of plants that grew in the Kona area before the arrival of Captain Cook in the late 18th century.
WHERE TO STAY: THE BIG ISLAND
FOUR SEASONS RESORT HUALALAI
This Big Island favorite is known for its programming, like a sandalwood farm tour where visitors learn how to extract the aromatic oil or participate in a reforestation project. Thanks to a $100-million renovation, guests can swim with tropical fish in the hotel's new 1.8-million-gallon King's Pond aquarium pool and visit the Kumu Kai Marine Center.
---
History-Rich Oahu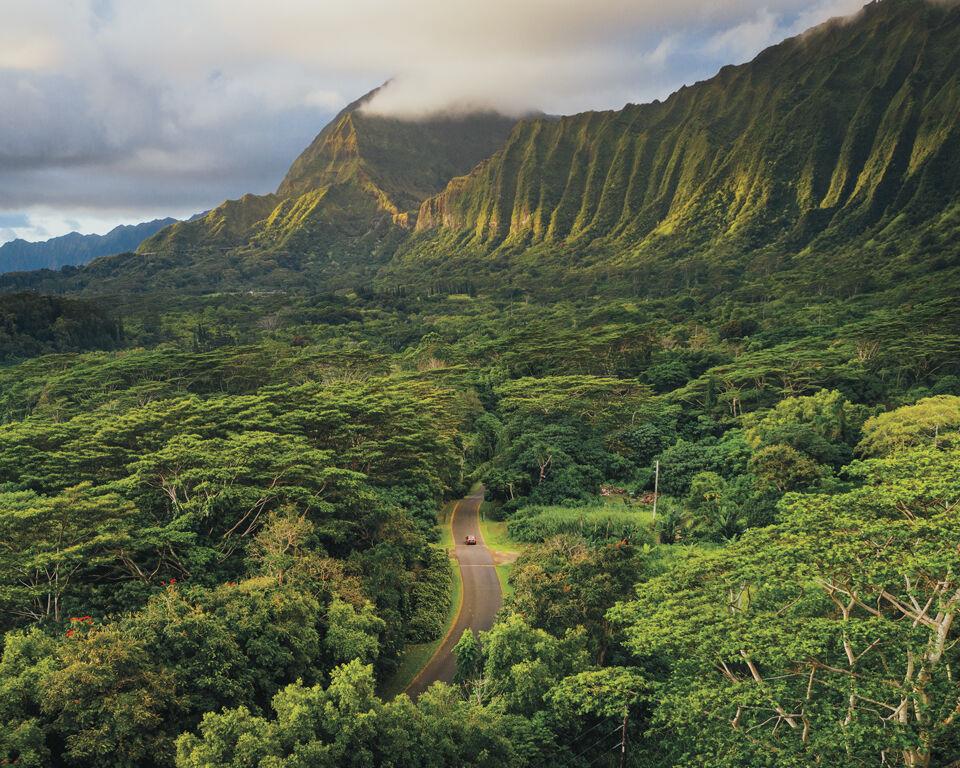 While visitors to Honolulu and Oahu's densely settled east coast might not think of this island as a garden paradise, several of the state's most spectacular gardens are located here, many of them with historical significance.
HO'OMALUHIA BOTANICAL GARDEN, EAST SIDE
Tropical plants from all over the globe are showcased at the 400-acre Ho'omaluhia Botanical Garden, located in Kaneohe in the shadow of the craggy Ko'olau Range.
The garden was created by the U.S. Army Corps of Engineers to protect the area from flooding, with plantings arranged in geographic groups covering the Philippines, India, Sri Lanka, and Africa.
WAIMEA VALLEY BOTANICAL GARDEN, NORTH SHORE
While the Waimea Valley botanical garden may be best known for its 45-foot Waimea Falls, one of the north shore's primary attractions, it also features one of Hawaii's most extensive botanical collections, with more than 5,000 different plants grouped in 52 themed gardens.
Many of Waimea's plants are non-native, collected from around the world by its original owner and founder, Charlie Pietsch II, and garden director, Keith Woolliams. But you'll still find a wealth of native flora, including an extensive collection of loulu palms, the only palms native to the islands before Polynesian settlers brought coconut palms and other food sources. The lei garden is fragrant with blooms typically strung for ceremonial use, and the hibiscus gardens contain subspecies of the state flower that are currently endangered.
Whether you choose to start your botanic tour with a misty forest bedecked with delicate orchids or a sunny plot bisected by jasmine-scented paths, every one of these gardens will delight and inspire.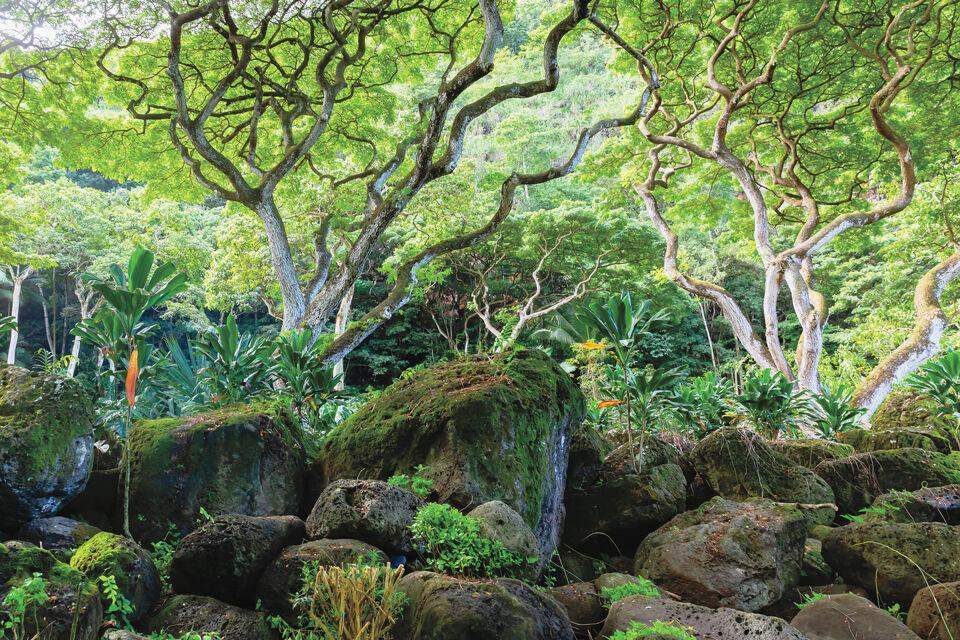 WHERE TO STAY: OAHU
FOUR SEASONS RESORT OAHU AT KO OLINA
The Four Seasons Resort Oahu at Ko Olina occupies a palm-shaded peninsula next to a protected lagoon. Walk 10 minutes north to Paradise Cove to swim with sea turtles in one of their favorite feeding grounds. The resort recently launched enhanced wellness programming that includes immersive retreats with renowned healers.
TURTLE BAY RESORT
Turtle Bay Resort is midway through a redesign that embraces its unparalleled peninsula location. Along with locally sourced goods and furnishings, such as tables carved from monkeypod, the resort features 42 oceanfront bungalows. In the past few years, Turtle Bay has taken on a greater role in stewardship, designating an agricultural preserve and spotlighting menu items inspired by the nearby bounty. Native plants blanket a 60,000-foot green roof, which also has garden plots that provide greens and herbs to the resort's restaurants.